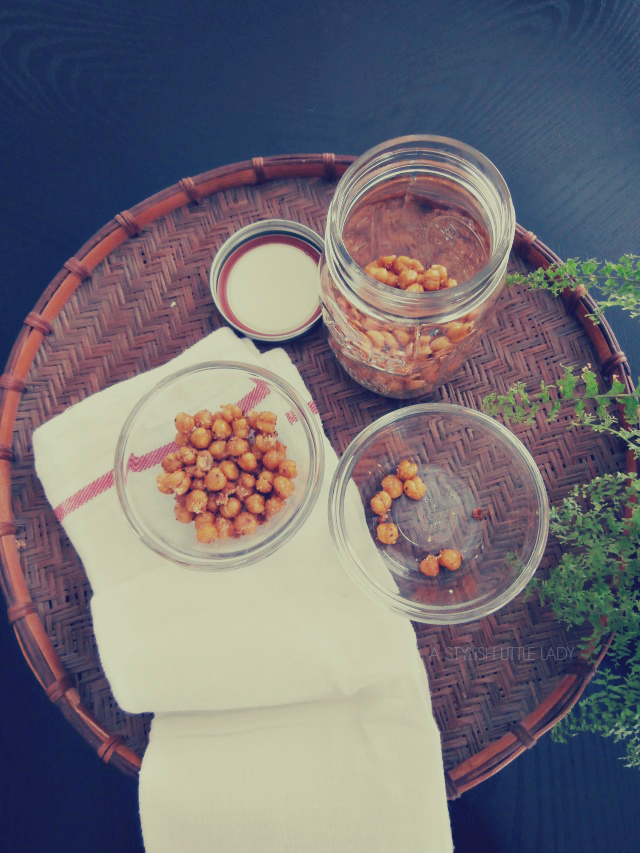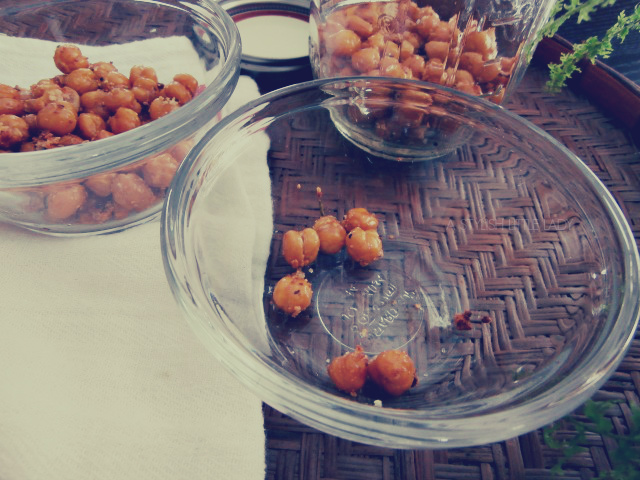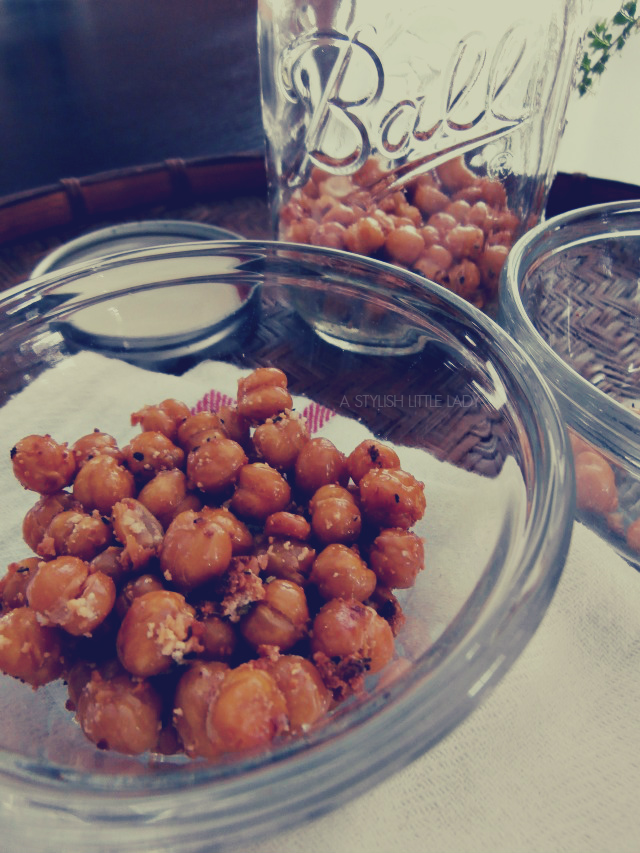 this is truly one easily made snack that does not require alot of ingredients ... is healthy ... and better than grabbing a bag of chips (even though i could never turn down a chip and well lets's face it ... this in no way is a substitute for a nice salty chip). but, on those days you want to be really good and snack healthy, give roasted chickpeas a try. they are high in protein and if you roast them up just right, they will give you the crunch of a chip (well, sort of). or you can just pretend they are a weird take on peanuts.

here's what i used//
1 can of chickpeas (garbanzo beans)
1tbsp finely grated parmesan cheese
1/2 tsp. rosemary
1/2 clove of garlic, minced
sea salt + black pepper to taste
olive oil (about 1 tbsp)

here's how i used it//
preheat oven to 400 degrees.
drain your beans and rinse under cold water to help remove the starch. blot dry with paper towels. this is important because the less moisture on your beans = a crispier treat. and it's ok if the outer skin comes off...i prefer to remove it. toss beans with olive oil + seasoning and bake for about 30 minutes. (keep an eye out as all ovens may vary and roast time may differ)

OR the method i use (still in a 400 degree oven) ...
place beans, in a single layer, on a cookie sheet lined with a silicone baking mat and roast in the oven for 15 minutes. remove and drizzle with olive oil and seasoning, using a spoon to make sure beans are coated. place back in the oven for another 15 minutes. when time is up, i like to turn the oven off and crack open the door and let the chickpeas cool inside (for about 30 minutes). i'm all about getting some extra crunch and my theory is this method helps.

ps//want a little kick with these? sprinkle on some cayenne or red pepper flakes. not a fan of savoring snacks? try brown sugar + cinnamon in place of the herbs and cheese. and these work great as a salad topper too.

enjoy (or not). i admit their weird. but sometimes you just have to fake your taste buds out!