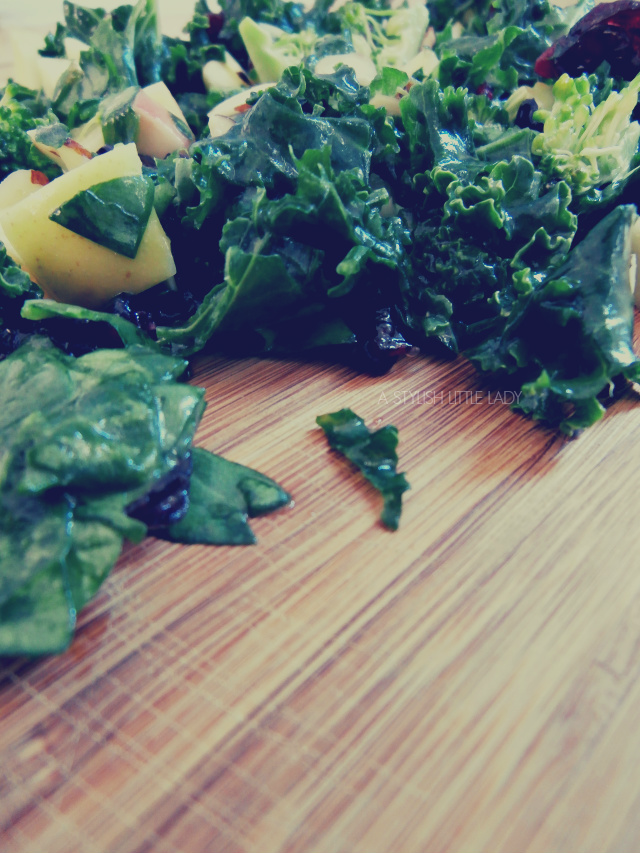 here's another go to salad recipe. it's easy to make ... quite nutritional ... and works great as a lazy dinner when my husband is traveling and i don't have anyone to cook for kinda meal.

here's what i used//
spinach (raw)
kale (raw) with the center rib removed as i like the greens only
broccoli florets (raw)
dried cranberries
slithered almonds
diced apple
champagne vinaigrette (i like poppy seed dressing with this too)

here's how i used it//
throw all your chopped veggies, almonds, and fruit into a bowl and toss with dressing.


ps//if you don't like the bitter taste of kale, try massaging it a bit before chopping. yes, give it a little love (you can add a drop of olive to speed up the process). this will help soften the greens and sweeten them up a little. if you like meat in your salad, try adding some grilled chicken breast or a slice of chopped bacon. and one more thing ... if you need more greens, here's another salad i like to munch on too.

enjoy!