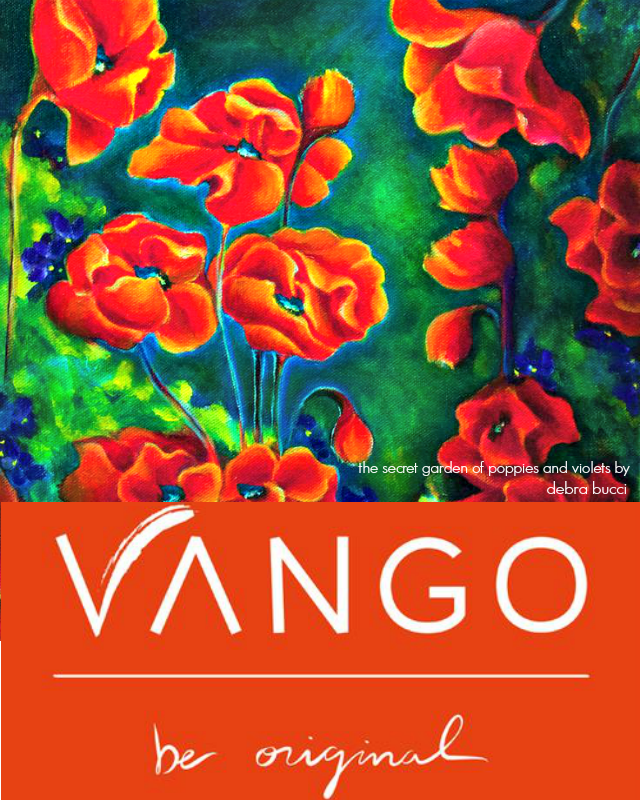 today i am crazy excited to have this handmade giveaway for you! i don't think i could be even more excited... unless of course i could enter and win this too! one lucky winner will walk away with a $100 credit to purchase some art! yes ... i said art. the stuff that i always talk about. the stuff that i sometimes try to create. the stuff that makes your home ooze with personality and joy. yes some amazing art!

and well, let's face it. some may be intimidated by the stuff. no reason for that because art is very friendly and approachable and can take on any personality to suit your taste. not to mention, it does not have to be out of your budget either. and that's why this giveaway is perfect, because here is your chance to own an original piece and get a little bit of help purchasing it.



Vango is the bomb diggidy! never heard of them? that's ok, because they are good peeps working with other good peeps to make art accessible to us all. if you love art, want to support emerging artists, and just looking to add some personality to your space, check out their app here (which allows you to upload a wall in your home and try out some of your favorite art pieces). not only that, you can find art starting at just $100. no prints here, just originals and your purchase will make an artist quite proud to know one of their works will be displayed in your home. seriously, your space will be graced with an original piece, not a mass produced print that everyone around the web seems to have up on their wall. this is the real deal!

take some time and get to know Vango and be a part of this easy, yet accessible way to purchase art. they support the creative talents and passions of others while providing an innovative way to try on some art in your home. and just so you know ... if you can't download the app, no worries as their collection can be seen (and purchased) thru pinterest too.

i can't take it anymore so continue on after the jump to enter! by the way, i do check all entries to make sure they are legit so play fair and good luck!


a Rafflecopter giveaway



*giveaway/sweepstakes rules: must be 18 and over to enter. this giveaway is open to US residents only and will end Monday 7/21/14. by entering , the
entrant acknowledges they are eligible for this giveaway according to all laws set forth by their state and will be responsible for any taxes associated with the prize. this giveaway is for a $100 store credit to vango. no cash refund will be given and the winner is responsible for any balance due. the winner will be selected at random and contacted via email Friday, 7/25/14. the winner is responsible for claiming their prize within 3 days from being notified. in the event the prize goes unclaimed, another winner will be randomly selected via rafflecopter. this giveaway is sponsored by vango and void where prohibited. all images within this post are the property of vango (along with their respective artists) and shall not be copied or reproduced.